I'm a Christ follower. I'm not perfect, and I don't try to be. In His mercy and grace, God has forgiven
my sins and in His divine purpose given me the ability to create characters from bits of truth mixed
with fiction. I can't stop the voices in my head or the images I see, so I write them down, trapping
their struggles for others to learn from.
I'm married to my high school sweetheart raising four children. As if that weren't enough to fill our
time, two have mild special needs (dyslexia and autism spectrum disorder) which keep us on our toes!
As parents of what some consider "special needs kids," we strive to advocate and raise awareness for
these challenges. Our special needs journey is dear to my heart, weaving themselves into my articles,
devotionals, and full-length novels.
I'm a history nerd. I enjoy visiting museums, historical landmarks, antique stores or (this may be a
little morbid) graveyards! Basically, anywhere that sparks ideas and gives my characters a tangible
place to exist on the written page.
I'm the President of Word Weavers International S. Middle TN, a member of ACFW (American
Christian Fiction Writers), and a yearly attendee of Blue Lake Christian Writer's Conference in
Andalusia, Alabama. I also serve as an Ambassador for Autism TN, and a mentor for local high school
students through TnAchieves.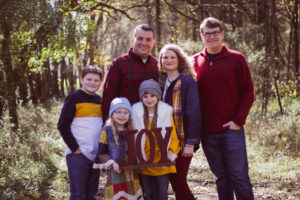 "Not because I desire a gift (to write): but I desire fruit…" (that others would come to know Christ) Philippians 4:17